Rhodes to Rhoades
Jim Rhodes enlisted in the 112th New York August 22, 1862. He signed his signature, James Rhodes. While in the service he is listed on the rosters as James Rhodes. His letters home, correspondence and all ancestory indications are of his being James Rhodes.
In the summer of 1864 Jim receives letters from his brother Dr John Rhoades of Hocking Port and Coolville, OH. In the letters he tells Jim their Uncle William Rhodes is a rabid Sesesh and his boys are too. They all fight for the Confederacy....one son was taken prisoner and sent to Marionville Prison. There he was killed by a guard, and the other son Lyman has joined the Confederate Army to avenge his brother Edwin's death and "fight for his rights". Dr. Rhoades tells Jim he hopes they are all killed, as Ed was. Jim also learns another cousin, Simon Rhodes is fighting for the Confederate Army in the Richmond area, assigned Army of Northern Virginia, and his brother John wishes him killed too.
From this point on, Jim Rhodes' name on the roster has an 'a' penciled in between the o and d. He signs his name Rhoades from this point on. It appears the Civil War split the Rhodes family and his and his brothers name change was a result of this war.
When the 112th was in the seige of Petersburg, there are indications that the cousin Rhodes boys were in the Petersburg area fighting for the Confederate Army.
Family against family.
I have intentionally referred to my Great great Grandfather, Jim Rhoades, as both in various entries here, as he was both during the civil war.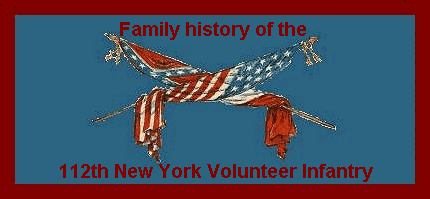 Copyright 2005, 2006, 2007 © - Do not copy or redistribute information on this site.