September-October 1862 letters
Organized at Jamestown, N. Y., September 11, 1862. Left the State for Fortress Monroe, Va., September 12, thence moved to Suffolk September 16, 1862.
The letters begin the day the 112th N.Y.V.I. left Jamestown.
Jamestown Sept 12 1862
Mother & Father I thought I would write a few lines to you. I am well staid all night in town. Come down to get my likeness taken but it was too late last night & our pass only run till 8 o'clock & I cannot get it taken so early. I suppose we shall start for Elmira to night at 6 o'clock at least that is the orders now I got my 25 dollars Government bounty yesterday & I send you 22 of it. We have got our pants & I will send them by Ed (Coe) or leave them in his care as he has got to go in the Cattaraugas Regt. (154th NYVI) When I located I will write more particular.
My writing is poor because I didn't have a good place to write & was in an awful hurry.
Robt L. Coe
The 112th NY was attached to Foster's Provisional Brigade, Division at Suffolk, 7th Army Corps, Dept. of Virginia, September to December, 1862.
Robert describes the details of his trip south. He sees places he's never seen, and describes in detail the places and things he sees. It's interesting that he doesn't include anyone in the details of the trip. He talks of seeing action, yet the 112th Regiment has not had any formal military training. As the fall grinds on and turns to winter, the 112th finds plenty of time for drill and fatigue duty.
Camp Suffolk, Va Sept. 18, 1862
Dear Parents and Sister: It is after a long & terisome journey that I sit down to write you a few lines. I am well & hope this may find you the same. I suppose you will think strange when you hear that I am in Old Virginia 8 miles from North Carolina in the midst of Rebels. But here I am well & in good spirits. The place where we are is a low & level tract of land not very thickly settled only in places. Now I will give you a history of my journey.
We started from Jamestown the 12th 8 o'clock in the eve & went to Elmira where the boys all supposed they were agoing to stop: but when we got there we were ordered to Washington & started from Elmira about 9 o'clock the next morning went down between the Allegheny Mts to a large & beautiful town called Williamsport where we received some refreshments from the ladies of the place; started from there to Harrisburg; down the Susquehannah River. The valley of the Susquehannah River is one of the most beautiful tracts of country I ever saw. it is from 1 to 2 miles wide & I think it excels the Lake Road in beauty. We passed Harrisburg in the night. I was asleep & did not see the city: we arrived at York in Pa a large city & staid awhile & started for Baltimore where we arrived just at day light: marched through the city took breakfast. I think about the city of Baltimore as others think & that is this that city of Baltimore ought to be laid in ashes there is but a very few union people there. A few days before we were there 15 men, soldiers, were poisoned by the cakes & pies sold by peddlers. The way to end this war is to burn every rebel place taken. We started from here about 9 AM Sunday morning saw Washington's Monument got to Washington about 1 or 2 o'clock went into some barracks where that same morning 18 soldiers were taken out dead! poisoned. I tell you soldiers have to be careful what they buy & of whom they buy. I went & see the Capital, it is a splendid building & is used as a hospital went to the Smithsonian Institute which is another splendid thing & in all Washington is a handsome place. Well from here we did not know where we should go but after awhile we were ordered to Fortress Monroe where we certainly thought would be our abode for a while. We got aboard the Monohansett on
the afternoon of the 15th passed down the River saw Fort Washington, Alexandria saw the house where the brave Ellisworth was shot, saw Mount Vernon where Washington was buried, anchored & laid over till morning. passed down the Potomac into the Chesapeak Bay got to Fortress Monroe about night laid in the boat until morning & what should we hear but the orders to move to Norfolk. On the way we saw a British Man of War firing at a target & I tell you it fairly made things gingle we heard the balls whistle & smelt the burnt powder & it made me think of what is to come. I saw the place where the Monitor & Merrimac had their battle where the Merrimac was blown up saw her masts sticking up out of the water. saw the remains of the Constitution sunk by our vessel & the Old United States sunk by the Rebels. Arrived at Norfolk got aboard the cars for Suffolk. Norfolk is a desolate looking place & still contains some Rebels & ought to be burnt. Got to Suffolk about night received our guns & acoutrements & were ordered to stand with guns in hand so as to march or fight at a minutes warning. ordered to rest where we were. about morning we received enough to make 60 rounds of cartridges were ordered to fall into ranks as still as possible. You may imagine us standing here expecting every moment to be called upon for action; but morning came & we find it was merely to try us. But the truth is we are expecting before many days to have a battle as there are (or it is reported) up to 18,000 rebels within 20 miles of this place. There are here about 12,000 & I think there will be reinforcements if not we have 15 cannon 2 Regiments of cavalry If they do try it they will find some hard heads. These regiments here are old regiments used to hard fare, but, probably there is not near as many rebels as stated.
Mother do not mourn for me but keep up good cheer & I think by Christmas if not killed I will be home to eat chicken with you & if I am killed you can say you have had one son die in a noble cause It is most night & I must close. Address your letters to
Co H 112 Regt N.Y.S.V.
Washington D.C.
I will write more particulars about my soldiers life next time Write as soon as you get this This from an only son.
Robt L. Coe
The men of the 112 are beginning to feel the effects of sickness and camp disease. Robert talks of the first action the men of the army he's in are seeing. And he describes the accidental discharge of a musket and the wounding of a comrade.
Camp Allen, Suffolk, Va., Oct. 19th 1862
Dear parents & sister, it is with pleasure that I take this opportunity to address you a few lines. I am all right & hope you are the same. I have rec'd but one letter from you: I thought that I would wait until I got a letter from you before I wrote, but come to the conclusion that I would have to wait longer than you would want to. The health of the regiment is improving: there has been but 2 deaths, one I spoke about in my other letter & one was buried last week. He died of a fever, he was from Tinkertown. George Eddy's health is better, he has not been very well since he came here. Ben Fritts is not very well. I guess it is the climate that injures his health, but he will be all right in a short time. Billy Skellie & the other boys are all well.
There has one sad accident happened in our company. It was this, last Thursday while the pickets were coming in, the regt was getting ready for "dress parade"; when one of the pickets in the company next to ours was laying his gun into his tent, the cock hit against a board & went off, passing through an inch board in his tent & went through a tent on our street & into one of the boy's leg. (calf of the leg) passing through his leg: went into the ground on the next street - it made a large hole in his leg being an ounce ball & flattened by going through an in board You may bet he hollered for he was awfully frightened; but he said it did not hurt much at the time.
We are having some pleasant weather now, we have had our equinoxtial storm & that made the boys jump around to keep from floating off: it rained steady 3 days & nights. After the storm was over the log huts went up fast & Jim & I have built us one & it is quite comfortable. We have not got our winter tents yet & our Captain told us yesterday that he had been talking with the Quartermaster & he said he could not tell when we should get them. for he had been disappointed & the Captain told us to make ourselves a comfortable as we could. For we might be ordered to move. There are reports here every day, some days we are a going to Albany to winter, sometimes to Fortress Monroe & other times to Baltimore, but I guess we shall winter here.
There is a large force here now, upwards of 50000. I don't know as I wrote to you about the fight our men had with the rebels, they lost (our men) 3 killed & 4 wounded, the rebels loss not known as they play Indian, carry off their dead.
Last week the cavalry fell in with them & had a little brush but of not much consequence. I suppose there has been 2 or 3 hard fought battles lately, but glad to say the rebels were defeated every time The rebs in Missippi are about cleaned out, some of Stuarts cavalry went into Penna but did not stay long nor do much damage.
Today is Sunday but it does not seem much like Sunday the guards are mounting now. Jim is getting ready to go on picket duty & one of the best brass bands I ever heard is now playing it sounds splendidly: to-day at 9 o clock we are going to have a general inspection of arms & clothes & I must bring this to a close soon for it is most time. Father if you had your butter down here you could sell it for something as it is selling at 40cts by the Sutler cheese 20 sugar 20 molasses 12..& other thing in proportion The only fruit we get here without buying is percimmons which are good when ripe. There is not much news to write. When you write I want you to write about the folks in French Creek about political what you get for your butter & all the news you can think of for you know that any news from "Old Chaut." Will please me. I want you to write often if you want me to for I want you to write as often as I do. Give my love to all inquiring friends & reserve an equal share for yourself. Your most affectionate son Robt L. Coe to his friends B.S.&E. Coe
Robt. L. Coe
Sickness kills more than the Confederate Army, and there is hope the cooler weather will stop the spread of disease. Through the war the statistics bear this out: Regiment lost during service 9 Officers and 122 Enlisted men killed and mortally wounded and 3 Officers and 190 Enlisted men by disease. Total 324.
Colonel Drake risks his career by complaining to superiors about the drafting of his men into the Artillery. Some of the men liked that duty much better than digging fortifications and volunteered to stay. Colonel drake was reprimanded severely by General Peck for his actions. But gained the respect of his men.
Camp Allen Suffolk Sunday Oct. 26 1862
Dear Father, Mother & Sister
It is with pleasure that I now write you a few lines in answer to yours. I am well & in as good sprits as I ever was in my life & hope these scribblings will find you the same. I have just come in from picket we had a fine time shooting at hogs & I think if it does not rain I shall volunteer to go out again tomorrow morning for I much prefer it to any other business here. Our troops here have just gained quite a little victory they went out night before last to visit the rebs but made them a short visit & captured 21 one Colonel one captain & nineteen privates our men lost one Lieutenant and five or six wounded (privates) the rebel loss not known we also captured two splendid cavalry horses. The rebels retreated across Black Water some of our cavalry pursued them some miles beyond Black Water & gave up the chase. While marching back some of the boys got some apple jack got pretty light & two of them got into a fight when one drawed the butt of his gun & broke it over the other ones head killing him. I think they were in an Ohio Regt. Only the sharpshooters of our Regt went out.
Sickness still prevails in camp & on an average 1 dies every day, now one died last night making ten in all that have died since we came here. The old soldiers say that as soon as it gets colder we shall be all right; none in our company has died yet. Our tents have just came in & you may guess we are all pleased for the tents that we have had are not worth much being only about 5ft wide & 10ft in length so when it is up it covers 6 by 3 ft of ground & slanting from the ground & open on both ends. Mr. Merts Elijah Thompson & his brother are agoing to tent with Jim & me. We have one of the best Colonels in the army that is I think so. I will tell you one thing he has done; since we came here there has been about 30 men called for from the regt. to go in the artillery the first call was for 17 the Colonel gave them a chance to volunteer & 15 did so when the Colonel wrote to Gov Morgan asking him to assist him if he could so that he would not have to force the men to go telling him he couldn't see why they had a right to do so & he got an answer from the secretary there telling him that it was impossible for him to give him any relief & that he would have to abide by the orders. This did not satisfy the Colonel so he wrote again telling him he thought that he did not view it in the right light & told him he would like to have him think it over: but the next answer was not much different from the first. Not getting any consolation from Albany he wrote to Hon R.E. Fenton telling him of his trouble & the Hon wrote back that he was going to Washington in a few days & that he would do all in his power. Well before the Colonel got this answer there came a call from another battery calling for 15 men at this the Colonel wrote to Hon Fenton again telling him they was still heaping them on & that he (Drake) made a requisition for 30 cavalrymen for he thought he had as good a right to draft cavalrymen into infantry as the artillery had to draft infantry from his Regt. & he told him he should have them. he has not received an answer from the last letter yet; the Colonel has also made a complaint to Major Gen. Peck but gets no relief. I think the Colonel has done the fair thing in this.
Those long legged boots you spoke of; well I guess those boots are going to stand war pretty well.
You want to know about the blacks. Well I have nothing to say about them only they are most to thick here to suit me & I wish they were out of sight for I am getting so I perfectly hate the sight of them. You wanted me to send you my likeness, there is an artist in town but he has nothing but very large canvass & I cannot get them for any reasonable price but he says he is going to have some ambrotypes before long & then I will send home 4 or 5.
You wanted Jim to eat plenty of raw pork but he says instead of eating that he has taken to eating pudding which gives him the colic & he lays here to night a heaving & blowing like a heaving horse.
I guess I shall have to quit for there is a couple of old heads in the next tent a singing this " to ddes to dec what" and it keeps us a laughing so that I must stop.
Now I don't want you to let any body see this scribbling for I have tired out 2 pens & myself.
Write often & I will do the same
Yours truly
Robt L. Coe
P.O. Address Robt L. Coe
Co. H 112 Regt N.Y.S.V.
Suffolk, Virginia
Robt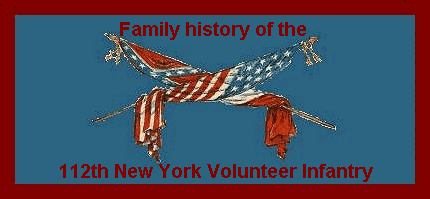 Copyright 2005, 2006, 2007 © - Do not copy or redistribute information on this site.