Folly Island S.C. Feb 13th 1864
Again I seat myself to write you a few lines to inform you of my where abouts; you will probably think before this reaches you that something is the trouble as I have not written in some time. I will tell you the reason &c. Last Sunday orders come for us to prepare for a march with knapsacks blankets overcoats, a change of socks & 3 days rations At 8 in the evening we started for Stone Inlet where we joined other troops crossed over to Kiawah island & started on for weldon we marched 5 miles stopped that day until 10 at night then started on marched 7 miles came to the stream that separates Kiawah from Seabrook Island this we had to ford the water being crotch deep; imagine the cold feelings in crossing & c. We trodded on 3 miles before we came in sight of any rebs. As we were crossing a bridge between Seabrook & Johns island the rebs fired on at the same time a regt charged thinking to drive us back but instead of running our men charged too. The rebs skedaddled. we lost none & only 3 or 4 wounded. the rebs lost 2 killed 3 wounded & 8 prisoners among the killed was a rebl capt. on this island we expected to meet strong resistance so we had to feel our way cautiously but we soon found out that all there was on the island was a few pickets we staid on this island until 12 oíclock Friday night when we started for Folly. The last day there our brigade went out scouting (112th skirmishers) we came across mounted pickets who fell back as we advanced. The skirmishers went so close to the main band that we could hear the command column halt given to the infantry that supported the batteries. this battery one of our batteries to the left had got a duel I understood afterwards that the 17 Conn lost 2 killed & 6 wounded in this. After we found out the position of the rebs we were ordered back. We arrived at camp on Folly yesterday at 4pm. The total loss was not over 5 killed & 8 wounded we captured 11 prisoners. There was about 5000 troops commanded by Gen Shemil Fennig. on the whole we had a good time & saw some of the best land that I ever saw even the land up the Peninsula (the boys say) not near as good. I stood the march the best of any march I ever was on until we got past way back when my feet got blistered bad traveling. but here we are again in camp washed up & rested. You probably will hear about this through the papers but I will tell you we were sent out there merely as a feint to draw there forces so that Gillmore can have more advantages with he expedition oc & c. While we were gone the rebs undertook to take Block Island but were all cut to pieces bad job for them. To day is mail day I recd yours of the 1st & one from Aunt Dianna. 3 recruits came to day but I havenít seen them nor donít know where they are from. We have not got the firkin yet though it may be on the landing now having come on the boat. I have no news to write. You wanted to know about Hoyt & Geo Eddy. I have heard nothing in regard to what you spoke about & guess it is not truth. I guess that I have written all the news so I will close. My love to all. Write often. Good bye. Yours affectionately
Robt L. Coe
I recd 2 papers. you need not send my the tribune.
Folly Island S.C. Feb 21st 1864
Dear parents,
It is with the greatest pleasure that I seat myself this Pleasant Sunday morning to inform you of my good health & comforts; I am enjoying the very best of health & I sincerely hope this will find my dear parents & friends at home enjoying the same great blessings. All the boys of your acquaintance here & in fact the whole regt is in as good health as ever was known. For the past five days we have had as cold weather as we have had this winter Friday night it snowed a little the only snow I have seen this winter. Well I have not much news to write you this time as everything is quiet & c. Eb Skellie is here we have been talking over old times. How we enjoyed ourselves & did not realize it, but I guess we would know how to enjoy the comforts of home now. Yesterday I was on picket had a good time. We are allowed fires now so that it is very agreeable, picketing even if it is cold. Since we came back from the march there has been nothing done except clean up for inspections which we have had about ever other day, bye the bye, they (the officers) are getting stylish or in other words they have got to putting on ďairsĒ & they are going most to far I think they will take a fall one of these days. War news is scarse here I have heard nothing from our armies in 2 weeks & suppose them to be doing nothing but no doubt they are preparing for the Spring campaigns. I am of the opinion that there will not be much more hard fighting one more great battle, at or near Chattanooga will be the winding up of the rebellion.
I suppose you at the north have got perfectly disgusted at soldiers there has been so many home (veterans) drinking & carousing about I expect they had a big drunk but do not think all soldiers like these for there is soldiers that think just as much of their good character as ever.
The firkin has not got along yet but we keep up good courage yet & look for it every mail or every boat. The mail has not got along this week but probably will be along tomorrow. Well I shall have to draw this scribbling to an end for the boys keep up such a clattering I must stop & go clattering too. Write soon. Good bye
Your son.
Robt L. Coe
Excuse all & c.
( on the back of this letter is the beginning of a letter to cousin Edward Coe Co F 154th N.Y.V. - now in the Veteran Reserve Corps after being wounded July 1st 1863 in Gettysburg:)
Dear Cousin Edward I now sit doan to write to you Dear Cousin Edward
The 112th New York is attached to the 1st Brigade, Vodges' Division, District of Florida, to April, 1864.
The 112th New York is on the move again, to Jacksonville, Fla., reportedly to reinforce General Seymour after the Battle of Olustee.
Folly Island S.C. Feb 23d 64
Dear parents,
I take this opportunity to inform you of journey for other parts. We are all ready to take transports which we probably shall to-morrow morning our destination is Jacksonville Florida. 2 brigades are going from here Fosters & Ames the report is that Gillmore has met with a partial defeat & we are going as reinforcements. We are all in good spirits & ready to serve our country in whatever way is required. Sergt Braistard, our orderly & other convalescents arrived last night just in time. I recd yours of the 8th & c. Braistard has given me the watch it suits me well. The firkin has not come.
I must stop for time is precious. Now dear parents do not trouble yourselves on my acct. I will write as soon as convenient at the first stopping place.
Good bye
Robt L. Coe
For the present address your letters to Washington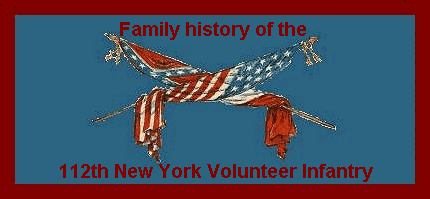 Copyright 2005, 2006, 2007 © - Do not copy or redistribute information on this site.