Please go to the contact page to order the reprint of The History of the 112th Regiment. N.Y.V. by Chaplin William Hyde.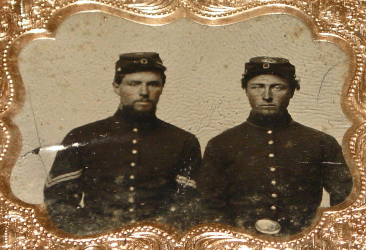 Corporal Robert L. Coe(L) and Private James Rhodes (Rhoades)(R). Robert Coe was my Great great Uncle, killed June 1, 1864 at the Battle of Cold Harbor. James Rhodes became my Great great grandfather as he married Robert's sister Emma Coe. I'm working on building this site for the descendants and historians of the 112th New York Volunteer Infantry Regiment, and Civil War historians generally. Family and researchers will be able to see what their ancestors/soldiers experienced by way of the letters that I will publish on these pages from the transcribing I have done from the original letters. The collection of letters are from Robert Coe and James Rhoades in Company H and some will be from William Skellie of Co. D., which detail experiences that most history books don't cover, even the outstanding History of the 112th Regiment N.Y.V. by Hyde skips some of the detail the letters go into. And of course, Chaplin Hyde speaks volumns more than the letters, so I recommend that reading as well. I have transcribed the letters as written. Punctuation and spelling have remained original. So, for the descendants, historians and Civil War enthusiasts in general, I am offering the letters for your enjoyment.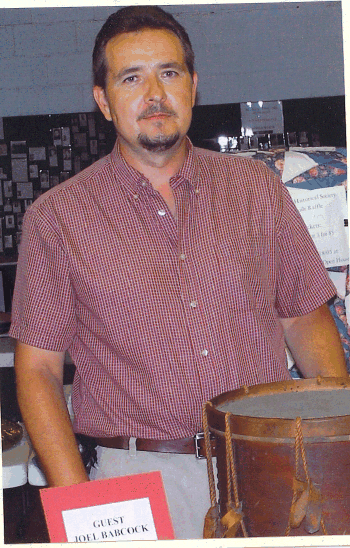 A photo of me....Joel Babcock with my 112th New York drum at an event for local history.
If you are a descendant, historian or just interested in the 112th New York, please contact me, Joel Babcock.... I would like to get the descendants in contact, you can tell me who your 112th ancestor was, or we'll just talk 112th New York, (or 154thNY) history. I will add you to my descendants list. At some time in the future, the 112th descendants should have a reunion to represent our ancestors, share knowledge, artifacts and history.
Also, these pages will have some of the early history of French Creek, NY as told by my Great great great grandfather.
Please check back often.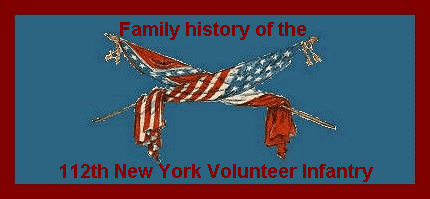 Copyright 2005, 2006, 2007 © - Do not copy or redistribute information on this site.