Suffolk Va., Mar 8, 1863
Dear parents,
Yours of the 28 inst is at hand & it was rec'd in due time. I was glad to hear from you & to learn that you was well & enjoying yourselves. Mar 8 finds me still in the hospital I expected to go to camp long ago but the Dr has put it off till now one thing is I draw my rations here & will until they draw again which will be the 10th then I shall go to camp. I have been here over 3 weeks. Jim has got the Diptheria he was taken the 4th yesterday the Dr said he was better. It has been to rainy this morning I have not been up to see him. Three boys from our Co. has the diptheria. The only ones in the regt. The Dr says this climate is not adopted to the disease & there is no danger from it. You wanted to know how much I weighed well before I was taken with the measles or the last time I was weighed I weighed the enormous sum of 192 lbs. Jim told me after I came over here that he was weighed & he weighed 196. You see by this that we were fat enough to beef.
We have had @ short thunder storm this morning it is very warm for this month. There is not any news to write for it is rather dull times here. You spoke about looking for glorious news from Vicksburg well I have been looking for the same but it has not arrived. on the other hand it is rather bad two gun boats have been captured. Queen of the West & the Indianolia but then our boats have destroyed the Nashville which about pays for the 2 boats. I think before long that we shall hear good news from important places. I want you to tell me what you & the others around there think about the "conscription act", whether they are glad or mad. I would like to of seen that fight you spoke of I think Bill Jones has @ little coward about him to take an ad to stick @ man with. I wish Bill Kellogg had choked him until he couldn't blat I have not had @ letter from Ed (Coe) since the last of Dec when you write tell me where he is & where Ros(well Coe) is.
I am to messy to day to write I cant keep still long enough so you must excuse me this time. Write often. Hoping to hear from you soon I remain your affectionate son
Robt
B & S Coe
Good Bye
---
Camp Suffolk, Va. Mar 15
Dear Parents,
Yours of the 9th inst was rec'd this morning I was glad to hear from you & to learn that you were well.
I am well & all right I came to camp @ week ago today & you may bet I was one glad boy to get to camp I think I was not made for @ caged bird.
I was up to see Jim (Rhodes) last night he is getting along well four boys in this Co have the diptheria now. It does not go very hard with them not as hard as it does up north.
To day is Sunday it is very pleasant but rather cold I like this country well in the winter season but next summer I think will be some warm.
The citizens around here have planted there potatoes it seems early for planting we shall have new potatoes here very near as soon as you plant yours up in York State. Last week 5 regts of corsters troops came here they were in the battle of Antetiam & Fredericksburg they have seen worse times than us Suffolk fellows have. What they are sent here for I don't see without they are going to make a forward movement from this place. Some of these boys say that the 49 is in their corps & is coming here.
About my boots they are all sound not a hole in them. Only at the top. The things in the box you sent Jim (Rhodes) & me came through all safe & sound.
You spoke about the stories that are afloat there about Lieut. L.T. Damon. I don't see who there is in the 112 that could have @ heart to tell such falsehoods. Lieut Damon never took @ ration from the boys & and if you hear any body say he did you just tell them for me that they are @ liae. Once when our boys were out of bread he took one or two of the boys went down town & bought 3 dollars worth of bread. But our captain has lived one the boys rations principally ever since we came here. I know that Lieut Damon did not take any amount of money home with him for he borrowed money off the boys not but @ short time before he went home. I am for Damon & shall be for I believe him to be @ man in every respect.
Well old folks since writing the above I have been down to town to @ negro meeting. I wish you could have been there to see them. They are equal to any Brethern I ever saw jump & holler. The house was full of soldiers & officers from all the regts around here. We have services every Sabbath down town in the Methodist church.
You wanted me to get the good will of my officers, that I shall never do for such officers deny respect from any one not even @ dog. Company officers I mean. Answer as soon as you receive & oblige you soon.
B & S Coe Robert L Coe
---
Suffolk, Va. Mar 22, 63
Dr parents,
I recd yours of the 16 last eve & was glad to hear from you & also to learn that you was enjoying the blessings of life ie. good health & plenty to eat. To-day being Sunday & having nothing else to busy myself with I thought I talk with you a little by the way of paper & ink.
I am well as ever I was to contented as a lamb I never enjoyed better health nor was less free from a cold than I have been since I enlisted I have about made up my mind that if one is careful & takes care of himself he can enjoy just as good health & is as free from diseases as any other place Although there are exceptions, there are camp diseases that no one can escape.
We have had quite a young winter for @ few days past it has snowed & rained steady for about 3 days. The snow was about 4in deep; but now it nearly all off. I have no news of importance to write for times are dull here as probably they are where you are. The 14 Pa Cav., have been out to Franklin on @ scouting expedition they found the rebs on this side of the river; they had thrown up a small fort on the bank of the river & so nothing to do but Gen Peck must have the cav. Charge on the fort so he sent @ dispatch to Col Spear telling him to take it if possible so he charged on the fort twice, but having no infantry to support them & only 4 pieces of artillery, they were refused & were obliged to retreat they captured 1 lieut & lost in killed wounded & missing about 30. This is one of the many instances where there the loss of life is not necessary. If Peck had wanted to drive them from there fortifications why didn't he send out one or two infantry regts it shows how little he cared about it make a cav force charge on @ fort for the purpose of capturing it is one of the wildest ideas I ever heard of it is impossible for cav to get into @ fort. Even if Col. Spears could of taken the ft. the rebs would crossed the river to shell them out so that is would not of been of any advantage to us. I think on the whole it was @ poorly planned concern.
The report here is that Longstreet is this side of Petersburg with @ force of 18000. I think that Peck believe now that we shall have an attack here but there will not be any such good luck as to have the rebs attack us. Nothing would suit me better than to have them attack us here I know we could give them what they deserve. We have been now built & being built 40 forts & probably 10 miles of rifle pits & breast works. I wish that we would with all other forces make an advance I am getting tired of laying still so long if I am going to be of any service to the Government I want to commence soon. Last night the papers stated that probably Vicksburg was in our possession but I cannot believe it for the papers tell so many different stories that we know not when to believe them. Sometimes I wish there was not @ paper printed. One of the greatest evils in the army is the circulation of the New York Herald it has caused more dissatisfaction towards the government than any other thing since the war commenced; it has @ large circulation through the whole army.
You wanted to know about the Stebbins boys they are all well Mrs Chapel has a good brother he is well liked by the boys.
Thinking that your patience will be worried by the time you read this I will close. When you receive this write & write about every body & everything. Hoping to hear from you soon I remain your son
R.L. Coe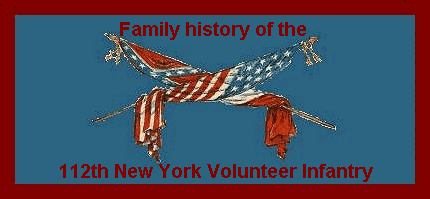 Copyright 2005, 2006, 2007 © - Do not copy or redistribute information on this site.